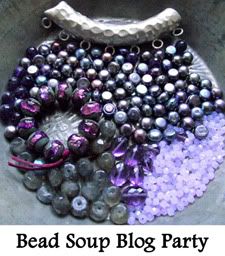 Well, I did it! I finally bit the bullet and joined the Bead Soup Blog Party hosted by Lori Anderson of
Pretty Things
. I have looked at the entries every year since it started, and wondered if I could do it, I wanted to, but I was afraid! I felt out of my comfort zone even thinking about joining, so I didn't. Then my Sister-in-law Kim of
Jumbled Hutch
sent me an e-mail telling me how she joined up last year and really liked being a part of the process. She urged me to join. So, I went to Lori's site, and filled out the registration form and even though I had that funny feeling in my stomach, before I changed my mind, I just hit send. Done. Joined. Committed. This morning Kim and I headed out to our only local Bead Shop,
Meant to Bead
and did our soup shopping together. After a few false starts and some trepidation, both our soups came together. We were both more excited than when we started! We went out for Breakfast after shopping and sat and admired our soups. I came home and packaged mine up for my Partner Theresa Fosdick of
Thoughtful Notions
. I am so excited for her to get it! I will post some teaser pictures in a couple days of what I sent her. So far, I have to admit its been fun. I am sure once I get my package, I will have some more nervous emotions but I will work through it. I felt the same way the first year I joined the Bead Journal Project. Now I have participated for 3 years and have enjoyed it immensely. I have met so many wonderful people and wouldn't trade it for anything. I am hoping I will feel the same about the BSBP! Watch for more soon!